Becoming a successful E-business requires an organization to achieve excellence in knowledge management, internal processes and external relationships (customers, suppliers and partners). Our e-Business framework highlights these dimensions.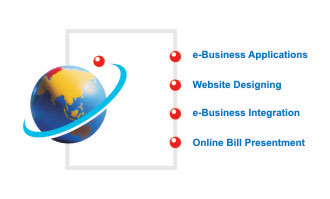 E-Commerce offering



We provide e-business application design, development, and implementation for sharing business information, maintaining business relationships, and conducting business transactions over the Web. Partnering with customers to e-enable their infrastructure and application architecture, we offer the following services for Web-enabling businesses:
Strategic consulting, design, development, and implementation of business applications over the Internet.
Enterprise application integration, including Web-enabling existing legacy systems.
Design, development, and maintenance of e-commerce sites.
Our E-Commerce practice helps clients to:
Increase their service levels to customers.
Enhance customer access to their business.
Improve speed to market.
Reduce cycle time.
Locate new customers.
Design and launch new products and services.
Improve brand recognition.
Reduce distribution costs.
Our e-Business competency groups deliver e-Business Solutions in following areas:
Business-to-consumer commerce.
Business-to-Business commerce.
BtoB Market place.
Intranet Application.
Web enabling legacy Applications.
If you are interested in knowing more about our services, or if you would like our marketing office to get in touch with you, please Contact Us